How to Download Music from Qobuz
---
Congrats! Explore this page to discover three practical methods for downloading music from Qobuz.
As a digital music platform designed for audiophiles, Qobuz stands out with an extensive library of CD-quality tracks, a sleek user interface, and an informative online album store. Subscribers are able to stream ad-free Qobuz audio across most platforms - Chrome web player, desktop, and mobile. Also, they can download and buy ad-free music from its massive repertoire in the best possible and high-quality resolution. Here we'll enlighten you on downloading music from Qobuz in three different ways. Kick it off!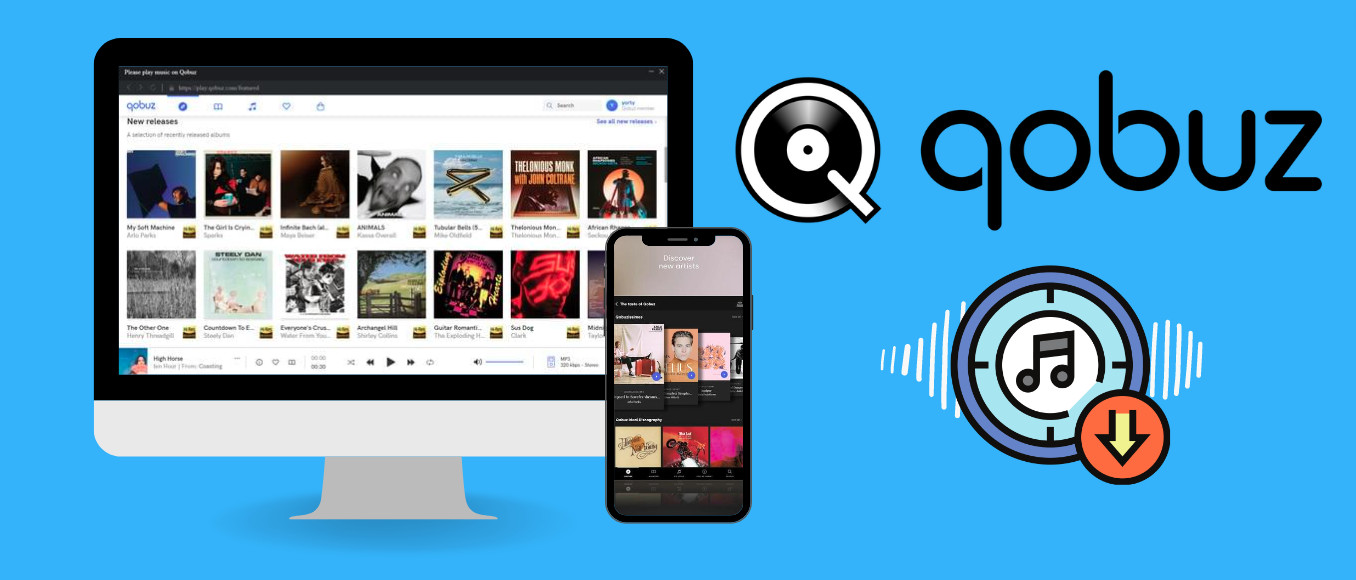 Method 1. Download Music from Qobuz with a Subscription
Like other subscription-based streaming music services, the download option of Qobuz is open to subscribers. Specifically, Qobuz offers a one-month free trial, after which you must upgrade to two different subscription tiers - Studio Premier and Studio Sublime. Once you've subscribed to either, you can download Qobuz tracks through the following steps.
Step 1: Download and start the Qobuz application.
Step 2: Find the Qobuz music or playlist you want to download.
Step 3: Tap the download button on the top, or click the three-dot icon behind the song.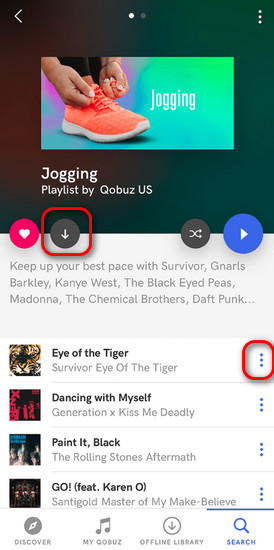 Method 2. Purchase Qobuz Tracks/Albums to Download
Qobuz also offers a online digital store, with millions of tracks at CD-quality & Hi-Res. If you don't want to subscribe to Qobuz but still want to download your preferred tracks and albums, you can do so by purchasing them from the official Download store.
Step 1: Go to the Qobuz Download store and search for the music or albums you want to download.
Step 2: Click "Buy the album" and then select audio quality to access the payment.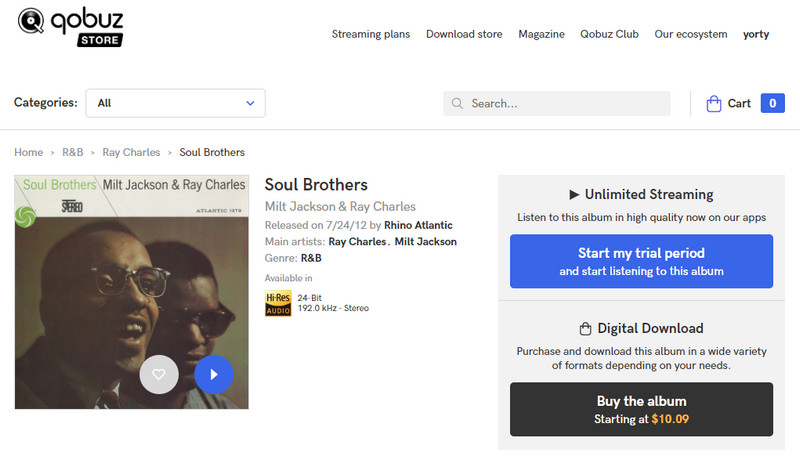 Step 3: When you finish the payment, you can go back to choose the output format you desire. Then click on "Download with Qobuz for Mac/PC."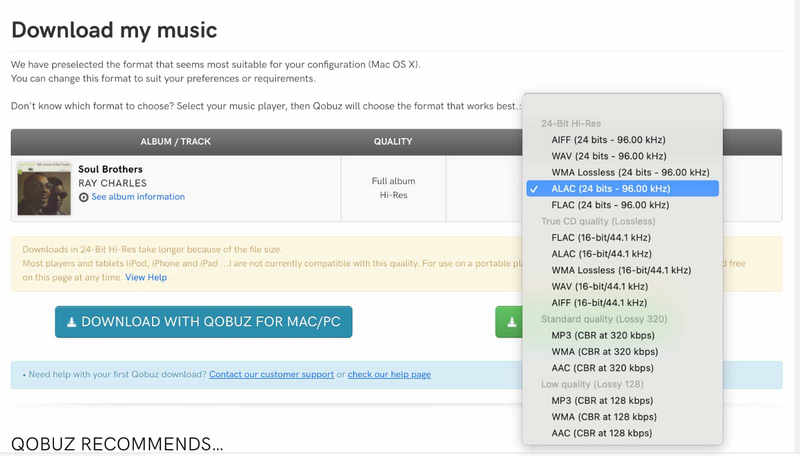 Apart from the two official methods above, you can also download music from Qobuz using a dedicated AudiCable Qobuz Music Recorder. The good news is that this program makes it simple to download music from Qobuz as local audio so that you can listen to your favorites offline without purchasing them. Check out AudiCable's feature below.
Method 3. Download Songs from Qobuz via Qobuz Music Recorder
AudiCable has come with a purpose-built Qobuz Music Downloader, which downloads songs/playlists/albums from Qobuz to your computer. You can convert Qobuz tracks to MP3/AAC/WAV/FLAC/AIFF/ALAC with keeping lossless sound quality.
Moreover, AudiCable Qobuz Music Recorder does a great job of grabbing music content from Qobuz Web Player, so you're not required to install the application. You'll locate the offline Qobuz music from the local drive when the recording is complete. Then you can transfer the music files to any portable device like generic MP3 players, iPhones, iPods, Apple Watches, etc.
Of course, thanks to advanced all-in-one recording functions, AudiCable is also built to download music from Spotify, Amazon Music, Apple Music, Tidal, YouTube Music, and the like. You can add a new music source at your discretion with just a few clicks!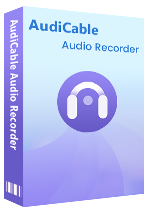 Download Qobuz music, podcasts, and playlists to computer.

Save Qobuz music to MP3/FLAC/AAC/WAV/AIFF/ALAC formats.

Keep lossless audio quality after conversion.

No extra need to install Qobuz App.

Transfer Qobuz songs to any mobile device and players for playback.

Handy tools: Audio Editor / Tag Editor.

Free updates and technology support.
📂 Tutorial on Downloading Music from Qobuz to PC
AudiCable Audio Recorder support running on the OS of Windows and Mac. Please first download and install AudiCable program per your computer system.
Step 1

Add Qobuz to the Output Music Source

Launch AudiCable Audio Recorder on Windows or Mac. Drop down to tap "Add other sources" button, then click "Add your site". After that, please copy and paste the official website and name of Qobuz to the input box, then click "Add". You'll find that Qobuz is shown on the main interface.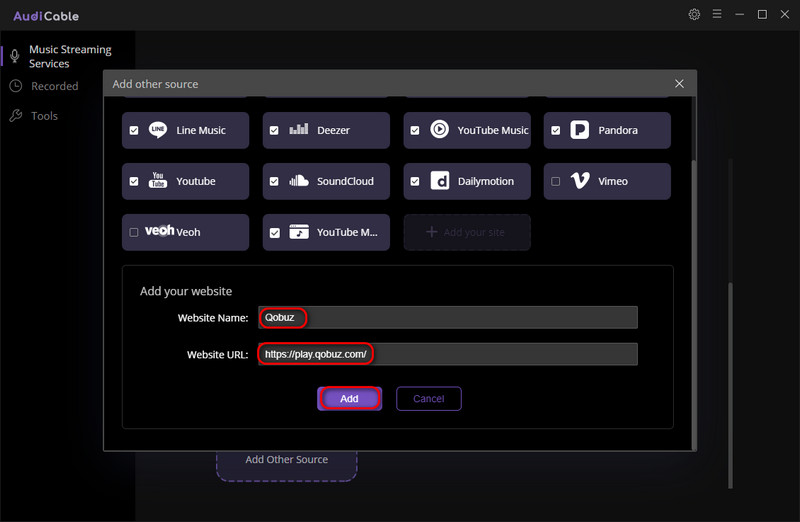 Note: Apart from Qobuz, you can also add other music services that you want. Just copy and paste the official website and music service's name, then finishing introducing a new music platform to AudiCable.
Step 2

Click Qobuz and Choose the Recording Player

Next, click Qobuz from the main interface, then choose the way you want to download music from Qobuz. After that, sign in your Qobuz account from the webplayer.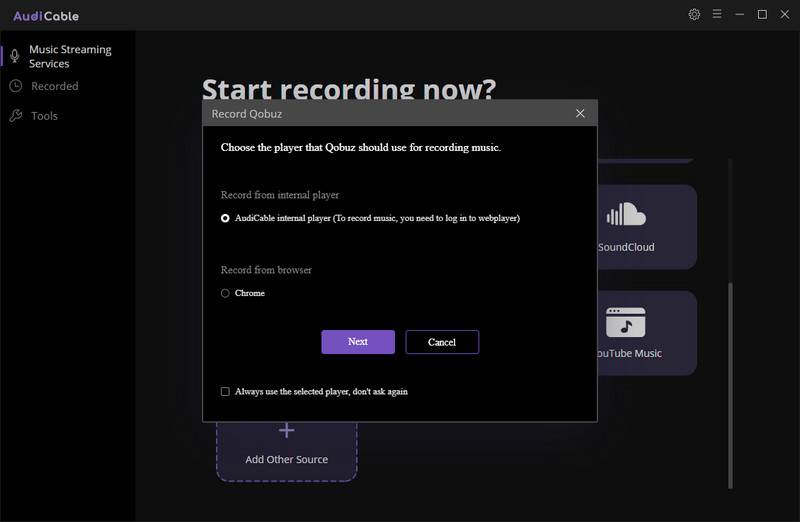 Note: The wep player of Qobuz pops up as your option. The first option will bring up AudiCable's built-in web player window, and the second will pop up from your Chrome.
Step 3

Adjust the Output Parameters for Qobuz

On the top-right corner of AudiCable, click on a "gear icon". From the pop-up setting window, set up the output format for your Qobuz songs. Then close it to apply the changes.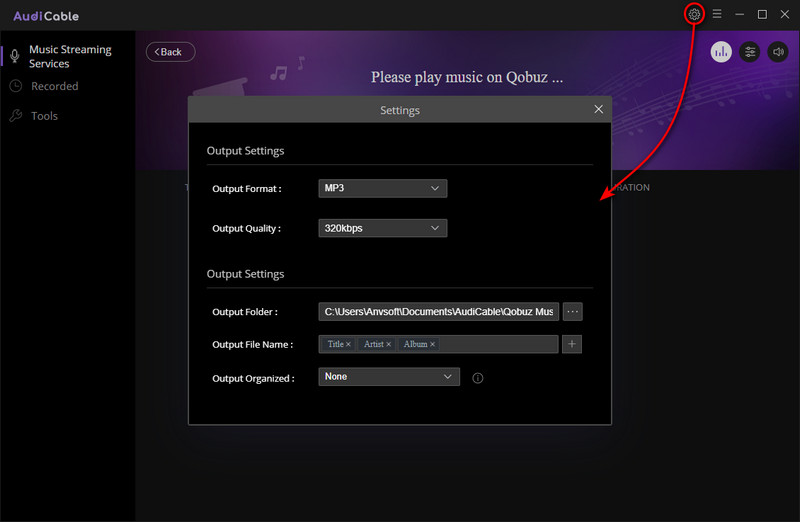 Note: Apart from the output format, you can also freely customize the output quality, output path, output folder and so on as you like. The audio quality varies from 128kbps to 320kbps.
Step 4

Start Recording Qobuz Songs to Computer

Choose your preferred Qobuz songs, playlist, or albums to play. As soon as you play the song, AudiCable will start recording simultaneously.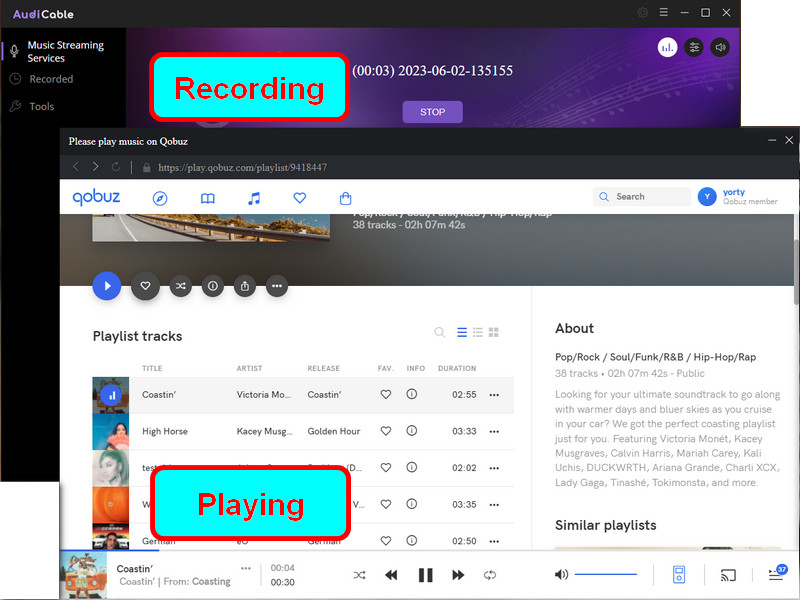 Note: If you want to have Qobuz downloaded in the background on mute, you can go to the top right and click on the "sound" icon to switch to mute mode.
Step 5

Find Downloaded Qobuz Audio on the Local Folder

Tap the "music pause" button to finish recording. Click the "Recorded" tab and you can find all Qobuz music that have been converted successfully. Click the "Folder" icon beside the music and you'll be directed to where Qobuz music downloads reside.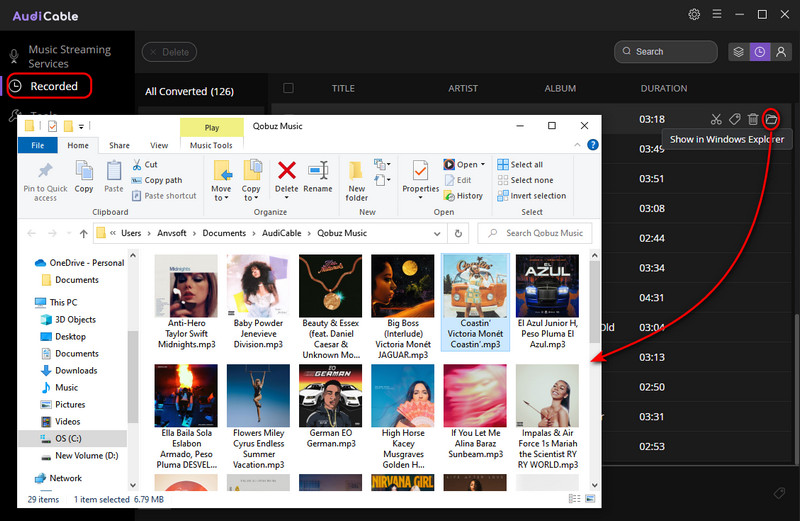 FAQs on Downloading Music from Qobuz
A: There are two methods available. One is that you pay for the Qobuz albums, then you can download and copy them to your flash memory drive. The alternative option is to use the highly rated AudiCable Audio Recorder to download Qobuz tracks. The downloaded audio files can then be transferred to a USB drive.
A: After deactivating your subscription, you can no longer stream or download, but your account and previously purchased downloaded content will remain accessible. Install AudiCable Audio Recorder for Qobuz audio download if you want to keep downloaded Qobuz music playable forever.
A: The downloaded Qobuz albums, tracks, and playlists will be displayed in the "Offline Library" tab of your different Qobuz apps.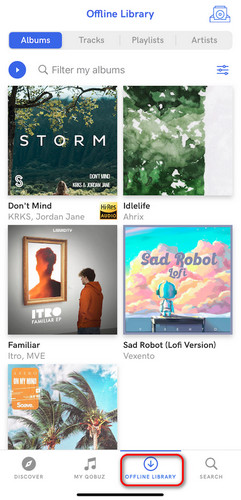 Disclaimer:
All these methods are for personal or educational use only.
You should not use this tool to distribute music or for business.
Conclusion
The three methods outlined above can be used to download music from Qobuz. If you have a Qobuz subscription, you can directly download Qobuz tracks from the library. But if you want to download a specific album offline without a subscription, then you may go to the download store for purchase. Besides, AudiCable Qobuz Music Recorder is a well-recommended tool that assists you in recording Qobuz music to a safe drive in lossless audio formats.
Note: The free trial version of AudiCable enables you to record a maximum of 10 Qobuz songs. To get the full conversion, please become a registered member by buying a license from AudiCable.
Related posts
Sidebar
What You'll Need
Hot Tutorials