How to Get Apple Music for Free - Try These 12 Easy Ways
How do I get Apple Music for free? Congrats! Discover 12 stunning ways to snag free Apple Music by scrolling this page.
Apple Music is a subscription-based streaming music service that grants access to a catalog of over 100 million ad-free tracks. With a subscription to Apple Music, users are able to download music to listen to offline, watch music videos, and create playlists of their favorite songs and the like.
Typically an Individual plan of Apple Music costs $9.99 or £9.99 a month. Users who are new to Apple Music can start with the one-month free trial. Of course, Free Apple Music access isn't just available throughout the initial signup. Learn effective tricks listed in this post, and you may get a free Apple Music membership for as long as six months. Moreover, you'll also know how to keep Apple Music songs forever using AudiCable Audio Recorder!
See also >>> 9 Ways to Get Spotify Premium for Free - 100% Work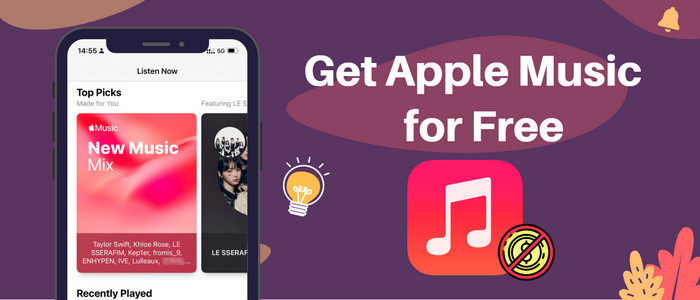 Method 1 Sign up for Apple Music (1-3 Months)
Generally speaking, new users with eligible devices can get one month of Apple Music free (sometimes three months) . Subscribers in this Freemium period can normally enjoy the same music benefits as the standard Apple Music subscription. But once the trial period expires, you must pay a monthly fee for your Apple Music subscription. Below are several steps for signup.
Step 1: Open the iTunes app on your device. Or you can go to the official web player of Apple Music.
Step 2: Find and tap the "Try it Free" button on the Apple Music interface, then choose the subscription plans.
Step 3: Enter your Apple ID and password to make the purchase. If you don't have Apple ID, please create it and proceed with further steps.
Step 4: Select the payment and confirm the billing. Lastly, enjoy the Free trial with your new Apple Music account.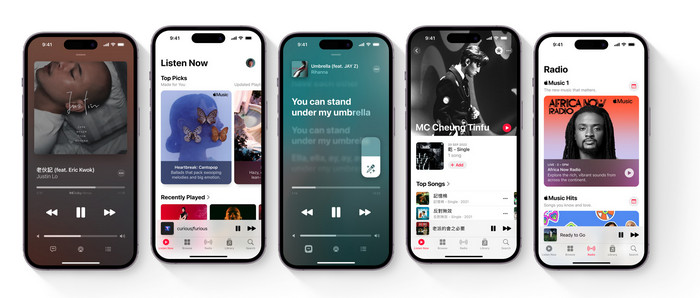 Note: The subscription service of Apple Music is enabled by default. If you don't want to be charged again, make sure to turn off the auto-renewal services before your next payment arrives.
Method 2 Subscribe to iSTYLE Newsletter (3 Months)
As an Apple Premium Reseller, iSTYLE offers the full range of Apple products, coupled with free Apple service for all visitors. You can benefit from their offer if you subscribe to iSTYLE's newsletter. Apple Music's three-month free trial is available to anyone who activates an eligible device for the first time. No device purchase is required.
Step 1: Click "Subscriber to our newsletter" on istyle.ae.
Step 2: Go to Apple Service of iStyle. Find Apple Music and click "Get now."
Step 3: Enter your registration information and email to complete redemption.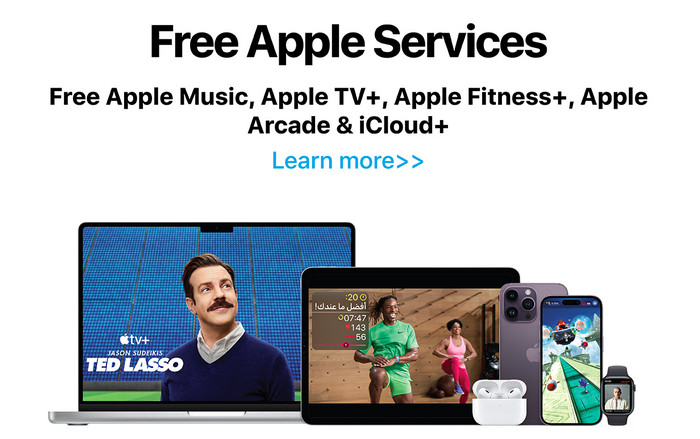 Note: The code is open to new and returning individual subscribers, with 30 days from the date of issue. It is valid for Apple ID registered in UAE, India, or UK only.
Method 3 Use Shazam with Apple Music (3 Months)
Shazam is a song identification app integrated with Apple Music in late 2018. To encourage people to download this application, Shazam has doled out a fantastic offer currently, which enables users to acquire complimentary 3-month plans of Apple Music. Just perform a few clicks, and you can redeem the offer.
Step 1: Get the Shazam app downloaded on your iPhone or Android.
Step 2: Go to the Shazam Offer website in your browser.
Step 3: Scan the code with your phone's camera or QR scanner. Then follow the prompts on your Apple device to redeem the offer. Now you can listen to Apple Music together with Shazam's song identification.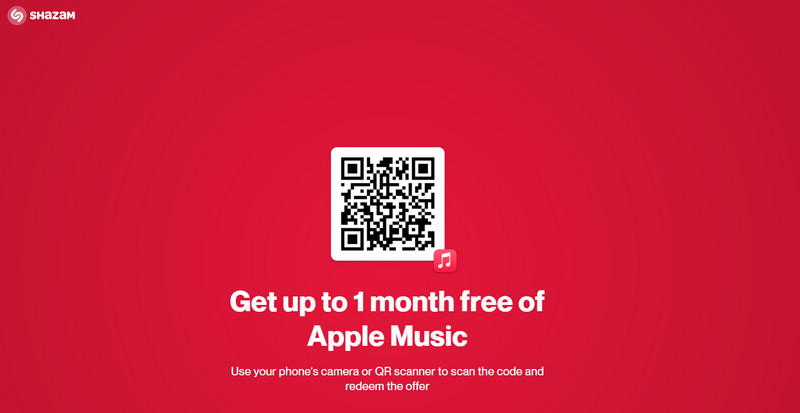 Note: This promo is applicable to both new and past users of Apple Music. The validity tends to fluctuate between one and three months, so the offer is subject to change.
Method 4 Redeem Free Trial through Best Buy (4 Months)
Another good idea is to consider Best Buy's offer with Apple Music before signing up. Newbies will receive the entire four months of Apple Music, whereas previous subscribers will get three months free. The subscription renews for $10.99/month after the free access ends until canceled.
This deal requires iTunes/Apple Media Services and Best Buy accounts. Here's how to claim it.
Step 1: Head over to Best Buy's promotional offer page for Apple Music.
Step 2: Click "Add to Cart > Go to Cart > Checkout." Then you're required to create or log in to your Best Buy account.
Step 3: Complete your payment information, then you will receive an email with the "Redeem Now" button to get started.
Step 4: Follow the prompts that your Apple Music, then you can successfully activate your subscription.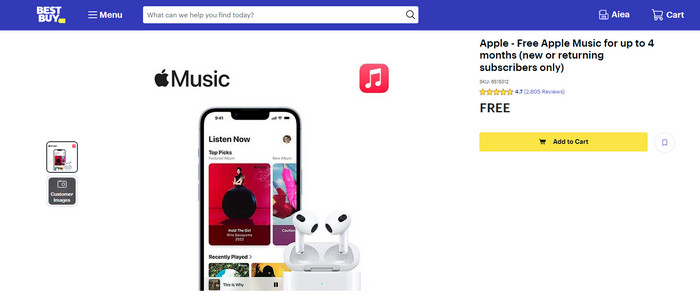 Note: This promotion is not combinable with any existing Family Plan and is only valid within the United States.
Method 5 Enjoy Apple Subscriptions with Barclaycard (5 Months)
The Barclaycard has partnered with Apple Music, allowing new and past Barclaycard cardholders in the UK to get up to 5 months of free Apple Music. Alongside benefits of free Apple service include Apple TV+, Apple News+, and Apple Arcade when they take out a Barclaycard through Experian. The length of these freebies depends on whether you're a new or previous user of those services.
Step 1: Log in to or sign up for your Barclaycard account.
Step 2: Find the redemption links via email after you have been accepted for your Barclaycard credit card and you have received your card.

Note: The promotional code ends on 23 September 2023, and you need to redeem it by 31 October 2023. You can only use one code per Apple account.
Method 6 Claim Apple Music Offer via EE App (6 Months)
If your mobile handset or SIM pay monthly plan includes Inclusive Extras, then you'll be able to add Apple Music as one of these. EE treats its customers to six months of free Apple Music. Once you install the EE app and subscribe to the Inclusive Extras plan, you can stream and download music without using your data allowance.
Step 1: Download the My EE app, and then go to Plan & Add-ons > Add-ons > Get more add-ons.
Step 2: Click the activation link in the mobile text to sign up directly with Apple.
Step 3: Follow the instructions to set up your Apple Music.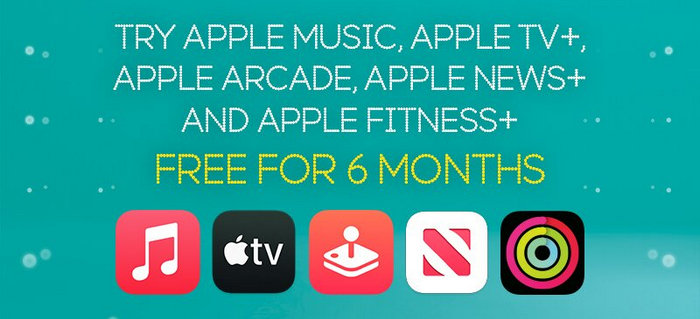 Note: This Apple Music promo ends 28 March 2024. You'll need to cancel your Apple Music subscription before you enjoy free membership with EE.
Method 7 Select Rogers Infinite Plans (6 Months)
Rogers has a new deal for Infinite Plan customers, which brings an exclusive 6-month FREE subscription to Apple Music. It is available to new and existing Apple Music subscribers for free streaming across iPhone, iPad, Apple Watch, Apple TV, Mac, HomePod, CarPlan, Android devices, and more. With Infinite Plan selected, users can access and manage their subscriptions through the MyRogers app.
Step 1: Subscribe to an eligible plan on Rogers's website.
Step 2: Tap the activation link in a text message, and you're directed to the MyRogers subscription page.
Step 3: Follow the instructions to link an Apple Music ID to the Apple Music app.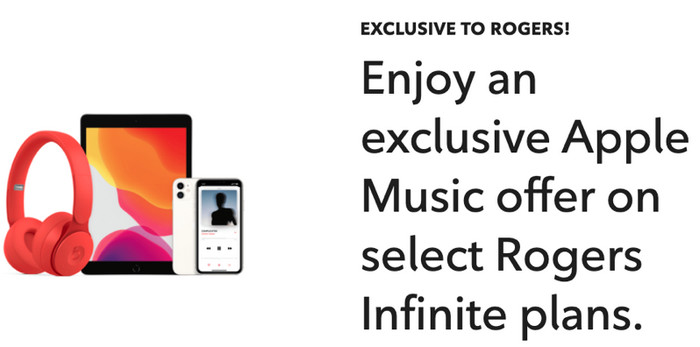 Note: This promo runs on both Android and iOS.
Method 8 Buy Plus Plan on O2 (6 Months)
Free Apple services (Apple Music, Fitness+, and TV+) are available on specific tariffs and devices through the O2 website, retail stores, and over the phone when you join or upgrade to a new O2 plan. Subscribers can get up to six months' free Apple Music when they buy a Plus Plan and up to three months with non-Plus Plans.
O2 will send you an SMS with a link to your Apple Service once you shop for your Plus Plan tariff. Enter your details to subscribe and start enjoying your favorite Apple Music tracks.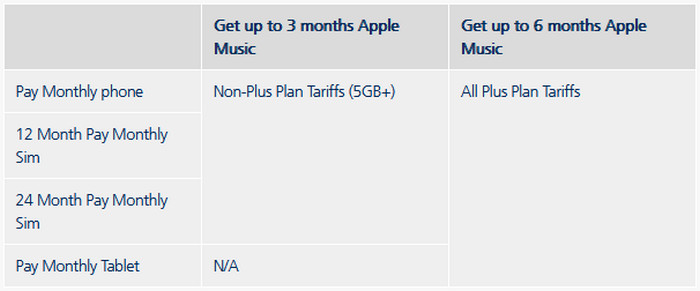 Note: You can only claim each Apple service offer from O2 once, even if you buy another eligible tariff or product.
Method 9 Purchase Eligible Apple Products (6 Months)
Surprisingly, Apple offers a purchase incentive for their flagship Apple products. For instance, first-time subscribers can get six months free trial of the streaming platform by purchasing eligible AirPods, HomePod, and Beats devices.
Here's a list of qualifying devices:
Apple: AirPods (2nd-gen or third-gen), AirPods Pro, AirPods Max, HomePod and HomePod mini
Beats: Beats Fit Pro, Beats Studio Buds, Powerbeats, Powerbeats Pro and Beats Solo Pro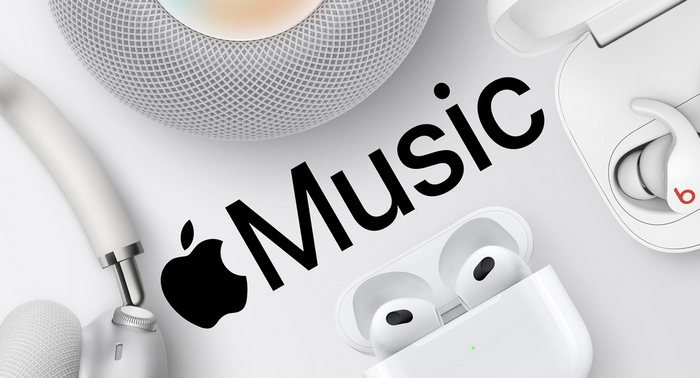 Note: You can't get this offer if you've previously had an Apple Music subscription. This deal must be redeemed within 90 days of making your purchase.
Method 10 Activate Verizon Unlimited Plan (6 Months)
Verizon is offering a free Apple Music bundle to its Verizon Unlimited customers. You can claim the offers even if you already have an Apple Music subscription. Eligible users can get free access to Apple Music for six months. Three major Unlimited plans come with a free Apple Music subscription: 5G Start Unlimited, 5G Do More Unlimited, and 5G Play More Unlimited plans.

Note: You can currently enroll the Verizon's Apple Music promotional offer until November 17, 2023.
Method 11 Join Apple Music Family Plan
Apple Music family subscription makes it easy for up to six people to enjoy all the features and the entire catalog of Apple Music. The administrator can invite other family members to join to access Apple Music without paying extra charges.
Through iPhone, iPad, or iPod touch:
Step 1: Open Settings, Tap your profile, then Invitations.
Step 2: Follow the onscreen instructions to accept an invitation. When you join a family, you might be asked to confirm your account information and to opt into any features or services your family set up.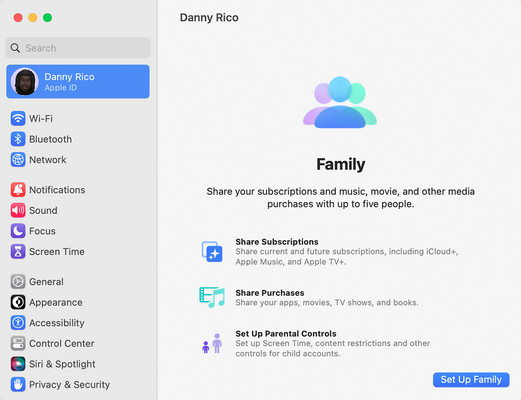 Note: Before the invitations, the owner of Apple Music needs to set up a family sharing. For more details, please refer to Apple's guide on how to do with family sharing.
Method 12 Keep Apple Music Songs Free Forever (Recommend!)
All the methods mentioned above work for a maximum of 6 months. After the free trial, you must pay for a flat fee to unlock access to Apple Music's entire library. But note that the audio files do not reside on your devices locally; you're instead just listening to tracks stored remotely owned by Apple. Here's an ultimate workaround if you'd like to keep Apple Music tracks forever for unlimited playback. You can download Apple Music songs as offline audio using this groundbreaking AudiCable Apple Music Recorder. The downloaded audio files of Apple Music are stored on your PC, allowing regular playing on any other MP3 player or audial device.
AudiCable Apple Music Recorder is born to download songs, playlists, albums, podcasts, and audiobooks from Apple Music to PC. Adjusting the output parameters, this tool effortlessly converts Apple Music tracks to MP3, AAC, WAV, FLAC, AIFF, or ALAC, with all music metadata information preserved. After recording, you'll quickly locate the lossless audio files of Apple Music in the local folder, and even you can transfer them to MP3 players, smart speakers, or the car via a USB drive.
AudiCable also features all-in-one music recording, which supports extracting music from most music sources, including Spotify, Amazon Music, Tidal, and YouTube Music.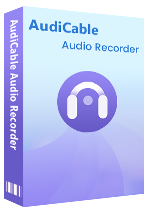 Best AudiCable Apple Music Recorder( Mac / Win )
Download music from Spotify, Apple Music, Amazon Music, Tidal, Line Music, Deezer, YouTube Music, Pandora, SoundCloud and other music sources.

Save music to MP3, AAC, WAV, FLAC, AIFF, ALAC.

Support to add more music websites manually.

No need to install extra music apps.

Keep ID3 tags after recording.

Keep original audio quality after conversion.
💡Tutorial on Downloading Apple Music Offline for Free Playback
AudiCable Audio Recorder supports running under both Windows and Mac systems. In this tutorial, we'll use the Mac version of AudiCable to show you how to download Apple Music as local audio. Please install AudiCable first, as required by your operating system.
Step 1

Adjust the Output Format as MP3

Launch AudiCable program on your computer first. Click a "gear icon", here you can freely customize the output format, output quality, output path and more output parameters as you like. Then close it to apply the changes.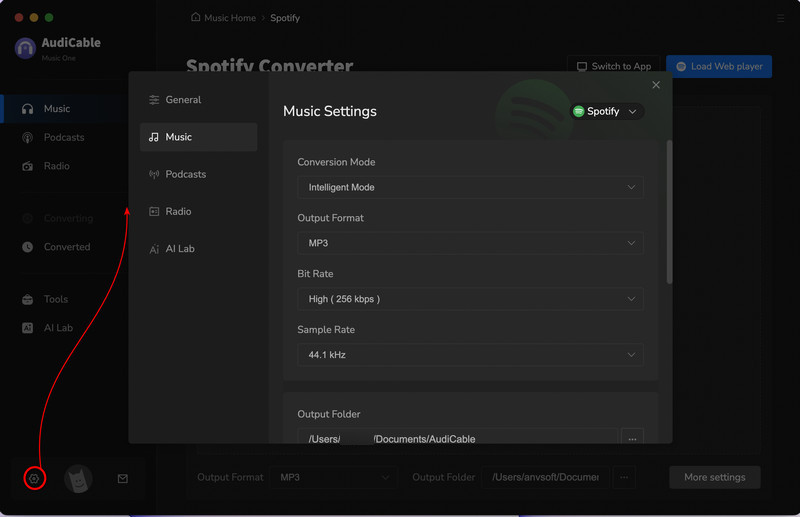 Step 2

Choose Apple Music as Output Source

Choose "Apple Music" as the output music source on the main interface. Then please log in your Apple Music account, when the web player of Apple Music pops up.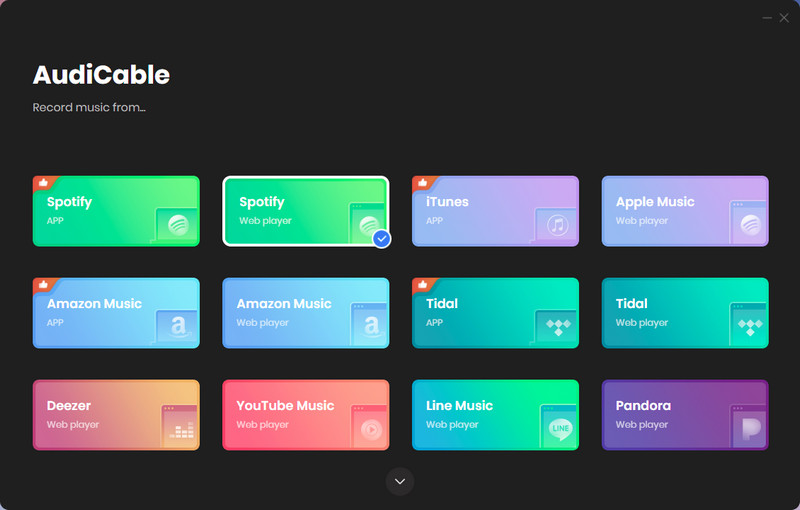 Step 3

Start Downloading Apple Music Songs

Play a song/playlist/album you want to download from Apple Music. AudiCable will record Apple Music songs simultaneously as soon as you play them. If you want to enable the music to download in the background, you can go to the upper right, and tap the "sound" icon to switch to mute.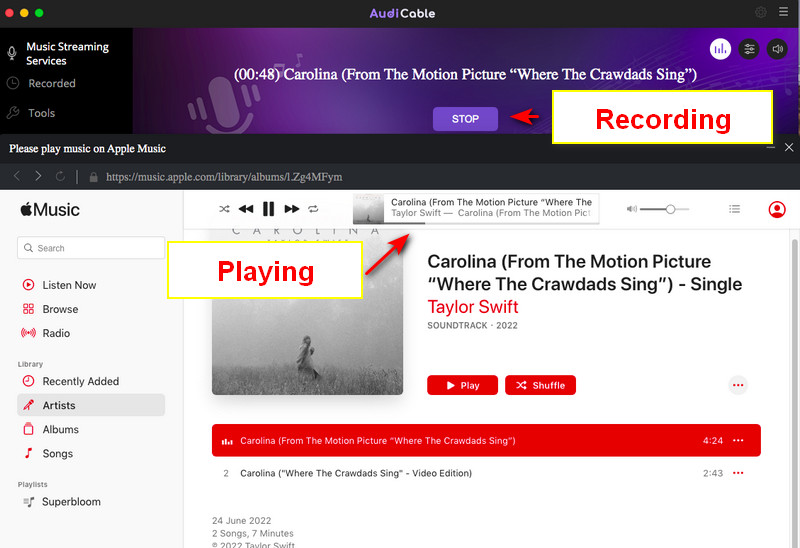 Step 4

Check Downloaded Apple Music Songs

When the recording is finished, go to the "Recorded" menu. Here you can find all the Apple Music songs that have been converted successfully. Click the "Folder" icon beside the music and you'll be directed to the downloaded MP3 files of Apple Music.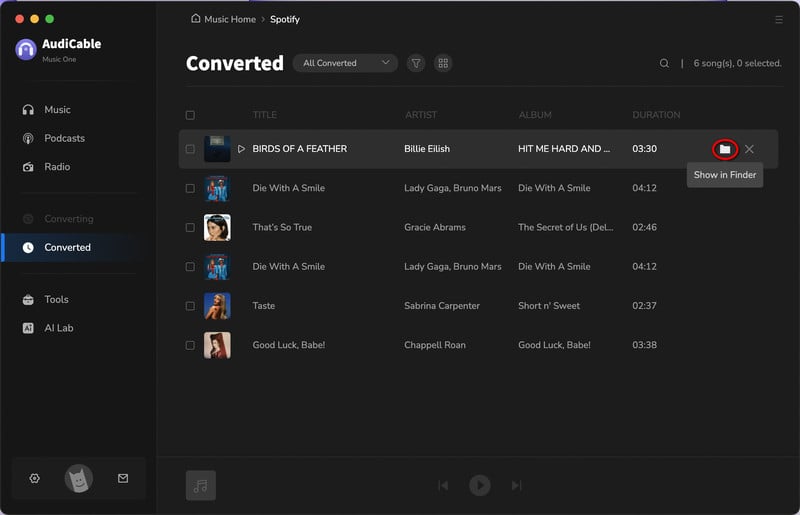 Now you can keep the downloaded iTunes tracks playable forever even if you cancle the subscription. You can also transfer the converted audio to any device for offline listening!
Disclaimer:
All these methods are for personal or educational use only.
You should not use this tool to distribute music or for business.
Wrapping It Up
Now that you know how to get Apple Music for free, you can start planning to use one of the strategies and cutting costs immediately. It is worth noting that these promos are time-limited, thus you're required to redeem them during the specified validity. For detailed redemption conditions and constraints, you should go to the official offer page.
Alternatively, If 6 months offer isn't enough, and you want to enjoy your Apple Music songs a bit longer, try the last yet the ultimate workaround - keep Apple Music songs permanently after unsubscribing. The required tool is AudiCable Apple Music Recorder, which helps you save iTunes songs to lossless local audio. At this point, you are able to free access downloaded Apple Music tracks, without any time limits.
Note: The free trial version of AudiCable enables you to record a maximum of 10 songs. To get the full conversion, please become a registered member by buying a license from AudiCable.
Related posts