Free Download High Quality 320kbps MP3 and FLAC Songs
---
"Stream On"! Spotify has rolled out a new high-end subscription service since its launch. Along with Spotify, other streaming music apps are pushed to provide a better music listening service. Now, we are users of Spotify, Amazon Music, Apple Music, Line Music, Deezer Music, Tidal Music, YouTube Music, Pandora Music and more other streaming music apps. No matter which music app is your favorite, you need this tutorial since you are going to learn a best way to download all kinds of online music to High Quality 320kbps MP3, AAC, FLAC, WAV, AIFF songs. As long as you are a fan of music, check steps below, you will find what you need.

Steps before All Steps
If you need to free download high quality 320kbps MP3 and FLAC Songs from online streaming music apps or websites to Computer, Phones, Tablets, you know you could achieve it without any help. If only one music recorder needed to save all steaming music to MP3 songs, it would be great! An all-in-one music recorder, AudiCable Audio Recorder, is designed by an experienced team from a high-tech professional software company. This music recorder is the best music tool you will get. Let's learn how it works now.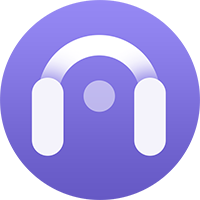 AudiCable Audio Recorder
Download music from Spotify, Amazon Music, Tidal, Line, Deezer, YouTube, Pandora and etc.

Record and save premium music to MP3, AAC, WAV, FLAC, AIFF.

Fully support for kinds of streaming music apps.

Keep premium audio quality after conversion.

Free updates & technical support.
Download Streaming Music as High Quality MP3 and FLAC Songs
Almost all streaming music are supported to be added on AudiCable Audio Recorder, we will download Spotify music for your reference. All steps are similar to download music from different streaming music platforms.
STEP 1:

Start your favorite music app

Get a Windows version or Mac of AudiCable Audio Recorder downloaded then start the music app you need on the main interface. If you could not find your favorite music app, just click +Add button to import a platform by yourself. Input the official website of the music service and enter its URL. Then you can start the music app on this customized AudiCable Audio Recorder.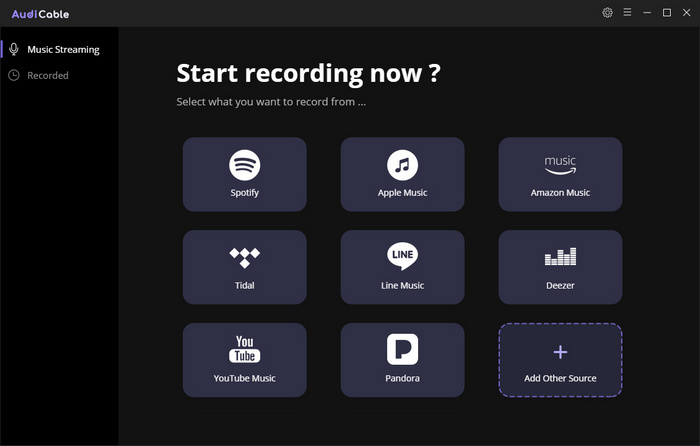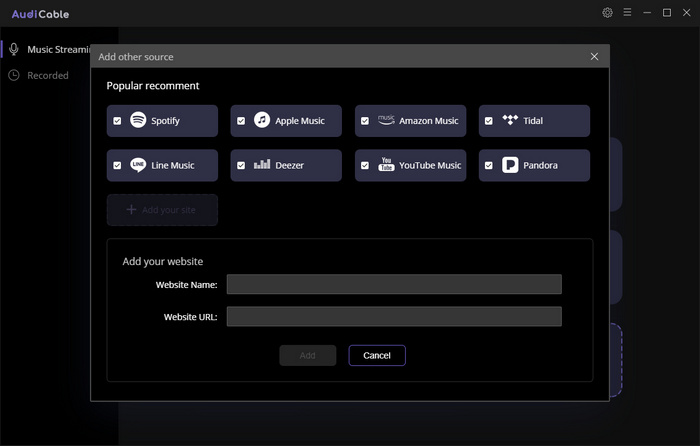 STEP 2:

Customize the output settings

Before downloading any music track, you need to check the output settings. Go to "setting icon"

on the upper right, and click on it. Then you are allowed to set the output format as MP3, AAC, FLAC, WAV, AIFF, and set the output quality as 128kbps, 192kbps, 256kbps, 320kbps. Also, choose a proper saving path. Close the setting window to apply the changes. Then we continue.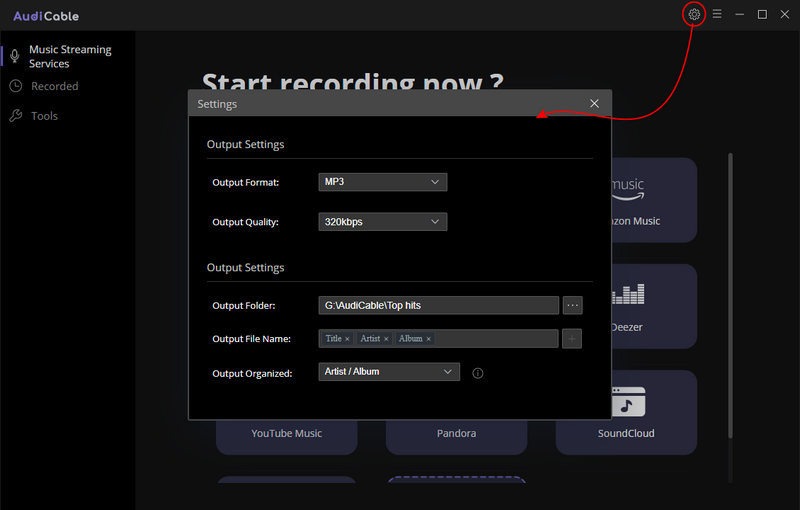 STEP 3:

Log in with your account

For instance, we start Spotify. Go to the top right, click Log in and enter your Spotify account. Free account works. If you have no account, just sign up right now then log in.

Note: If you do not want to record the silent part of a song, you can stop recording, then under "Music Streaming" tab on AudiCable, go to the upper right corner, tap the "record setting" icon on the middle. Then set Automatically split when the silence is more than (number) milliseconds. Or just choose Do not split to make sure you will get a whole song.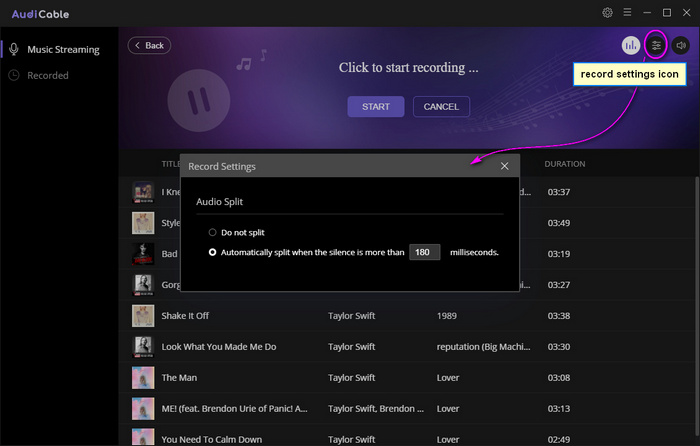 STEP 4:

Play and record music as MP3/FLAC songs

Select songs or a playlist on Spotify. Also, you can search an artist you are fond of, and choose a favorite music playlist, then play a song. AudiCable will start recording this song. AudiCable will record all songs in your music playlist orderly.

Note: If you want to mute the song when recording, then under "Music Streaming" tab on AudiCable, go to the upper right corner, tap the "sound"

icon to mute

. And you can stop recording, and listening to online music via AudiCable directly.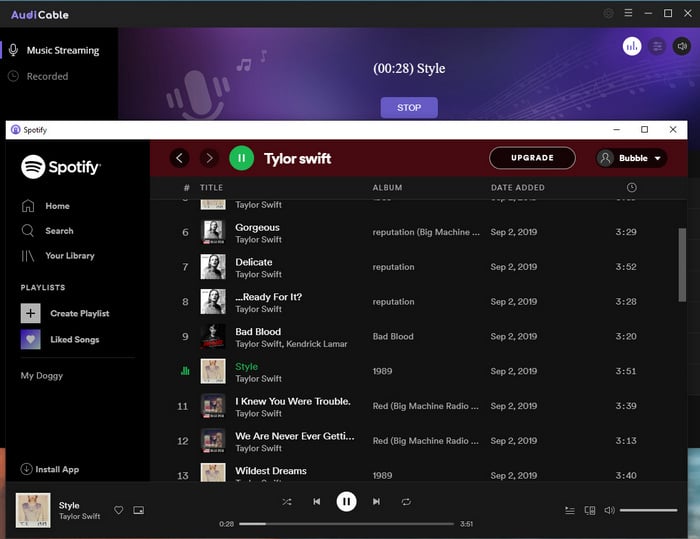 STEP 5:

Check downloaded songs

After all records, you can check all songs on computer. Go to Recorded and click the file icon behind any song to pop up the output folder. Or open the output folder directly since you set the output path before and you know where your download those songs are saved to. Now you can listen to music offline. Open any music app, then add local music tracks. You can enjoy those music forever. Or you can move those music to your portable devices via this Mobile Manager.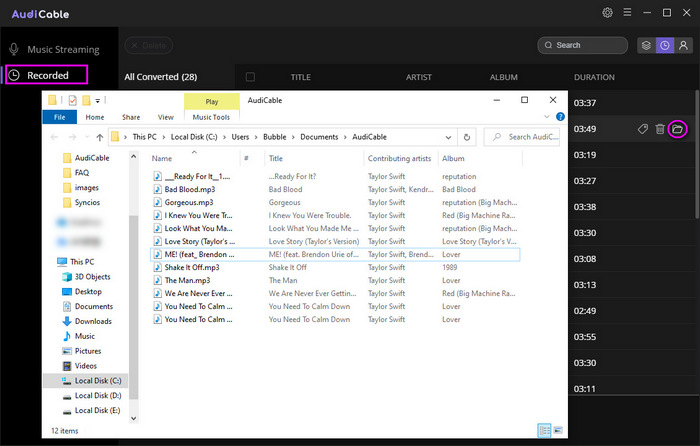 ---
Conclusion
When you try to download lossless music from a streaming music app to computer or mobile devices, you'll find that the you can always rely on AudiCable. It provides a best way to truly download all kinds of online music to MP3 and FLAC songs. Just do not hesitate and give it a shot!
Related posts
Sidebar
What You'll Need
Hot Tutorials