Download Lossless FLAC Songs from Tidal
When you are a subscriber of Tidal Music, you are welcome to listen to all online music. But once the subscription is expired, you need find other ways to get access to your favorite songs. Otherwise, you need to renew the subscription with a sum of money. And all songs are paid, you can only enjoy them under a good internet condition. When the internet is disconnected, you can still enjoy lossless CD-quality music from Tidal if you have followed this article. In today's post, you will learn about a rare but ultra-useful way to rip and download Tidal music to FLAC songs, which can keep nearly 100% the same quality as the original Tidal songs.

Method 1. Download Lossless FLAC Songs from Tidal
It takes you a few steps to download songs from Tidal. But what we are going to discuss can end the problem once and for all. There is no solution to download tidal music without any protection officially. But if you get help from a music recorder or music converter, such as AudiCable Audio Recorder, you can freely download all songs to FLAC or MP3 songs. That is to say, all songs can be moved to any device or share with friends without the protected formats. Have a quick look at features of this AudiCable Audio Recorder then follow easy steps below.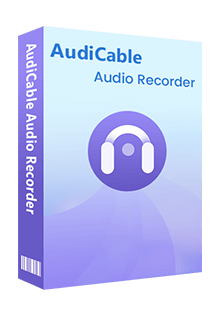 AudiCable Audio Recorder
Download music from Spotify, Apple Music, Amazon Music, Tidal, Line Music, Deezer, YouTube Music, Pandora, etc.

Record and save streaming music to MP3, AAC, WAV, FLAC, AIFF, ALAC at 10x speed.

Fully support for kinds of streaming music apps.

Keep Hi-Fi audio quality after conversion.

Free updates & technical support.
Step 1:

Locate your desired music source

On your computer, start downloading this AudiCable Audio Recorder for free. Then install this program. All common music sources are displayed on the main interface when you open this music recorder. If you need to add other sources manually, you are allowed too. Simply copy that official website and customize a name, then you add a new music platform.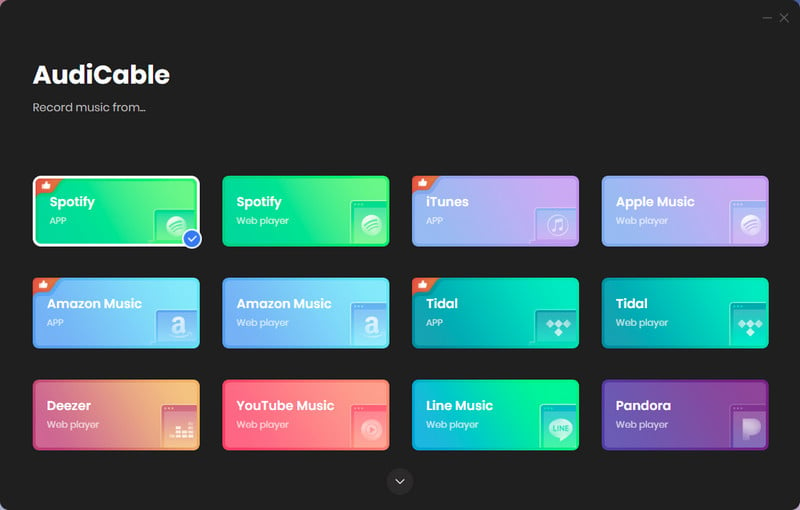 Step 2:

Customize the output parameters

By default, all songs will be converted to MP3 songs. If you need some changes, go to the upper right, tap the "setting icon"

. Later, more options are available, output format (MP3, AAC, FLAC, WAV, ALAC, AIFF), output quality (128kbps, 192kbps, 256kbps, 320kbps) and output path. Set up parameters according to your needs. For instance, we can select FLAC as the output format based on our topic.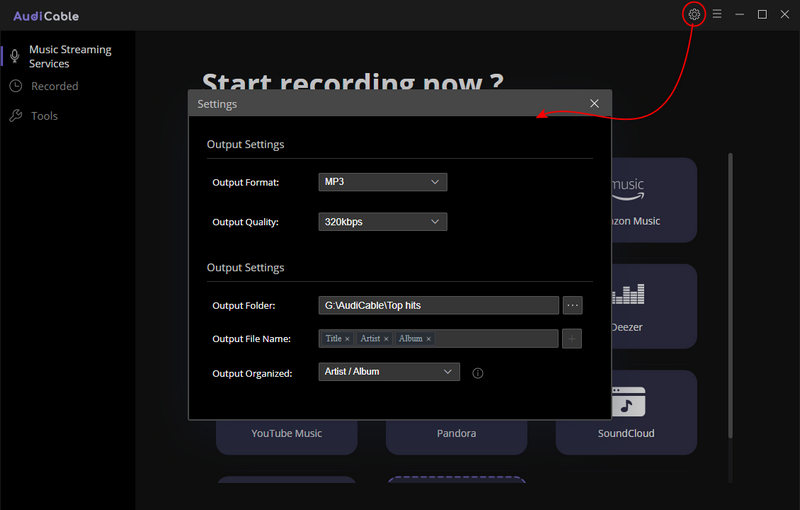 Step 3:

Log in Tidal with account

Navigate to Tidal on the main interface of AudiCable. Then start it. On the upper left of Tidal, you can log in. You will need a Tidal subscription. (Any subscription plan will do.) As a Tidal user, you should know, you could not get a complete song if you have no subscription. It's limited. But since all songs could be converted to FLAC songs, you can enjoy all songs without Tidal subscription or even without internet later.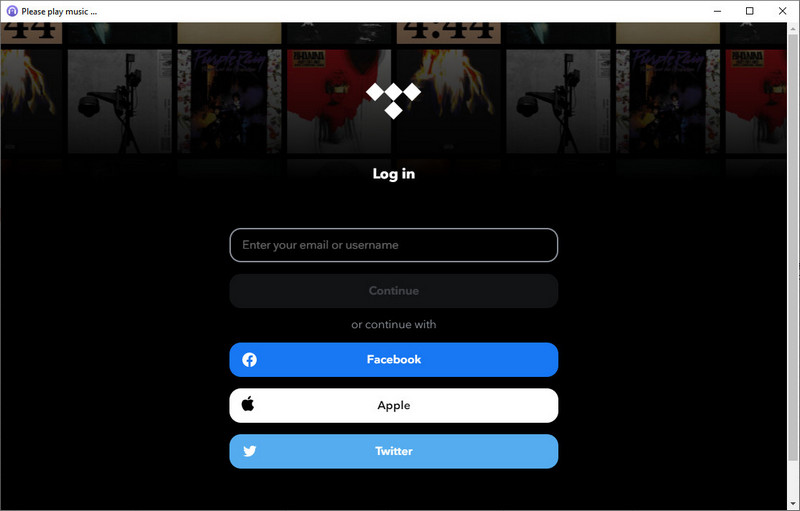 Step 4:

Download Tidal songs as FLAC songs

Choose any song or a playlist, then start playing. Also, at the same time, AudiCable will start recording the playing song. And you can go to "sound"

icon and switch to mute

. Then just let's AudiCable do the job in background. All operations and sounds have no influence to the recording. You are free to be busy for other jobs. One thing you should pay attention to is that a stable internet connection is needed. All songs from a playlist will be recorded as FLAC songs soon after.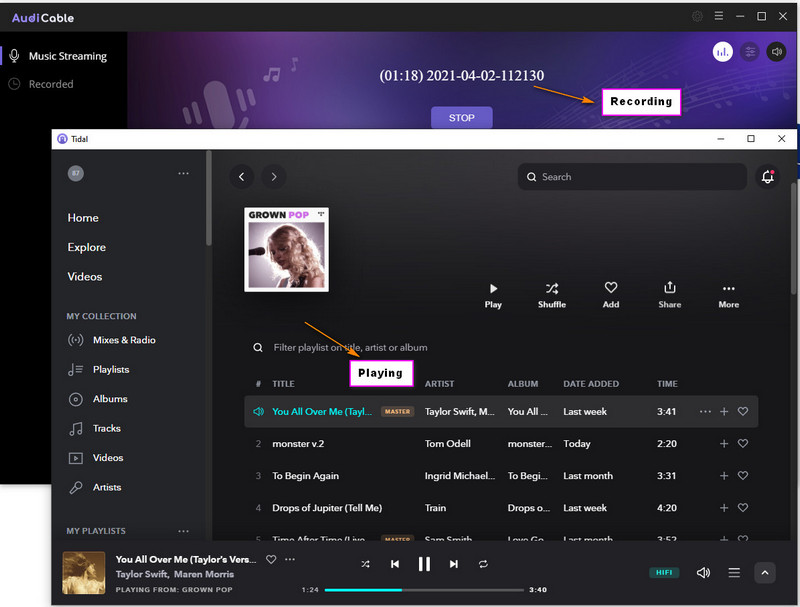 Tips:
You can navigate to a "record setting" icon

and choose to Automatically split when the silence is more than (number) milliseconds. Otherwise, select Do not split to keep the silence.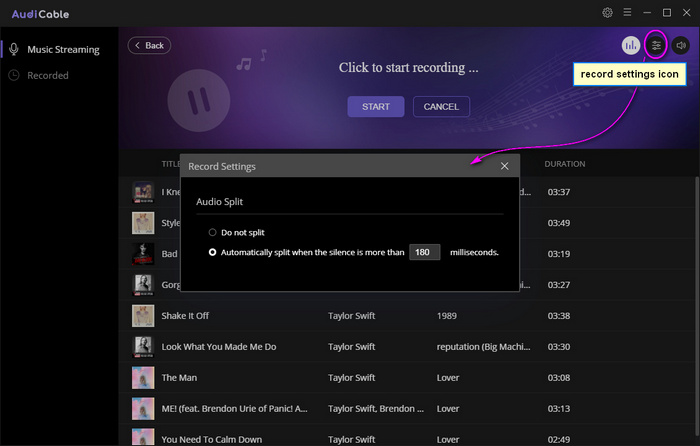 Step 5:

Check downloaded songs

Under Recorded column, move to any song, you will find a "file icon"

icon, tap it. Then you can locate all downloaded songs on your computer. Now you are able to move all songs to a portable device and enjoy them forever. A lot more fun, share all songs with your friends right now.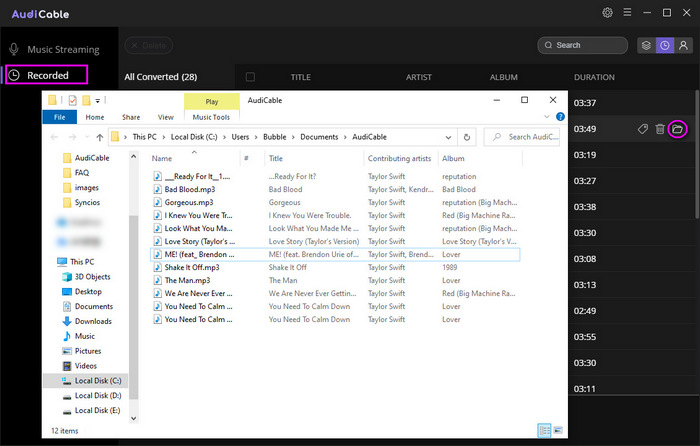 ---
Method 2. Batch Convert Tidal Music to Lossless FLAC
We also offer another option when you feel you can't stand the raw speed to download music. Tidal Music Converter can download songs ten times faster. And it can provide Hi-Fi quality downloads. This should be what a lot of Tidal Music users need. But this software is only designed for Tidal Music. If you still prefer the multi-platform downloader, you can go back to the previous solution. Let's take a look at the detailed steps next!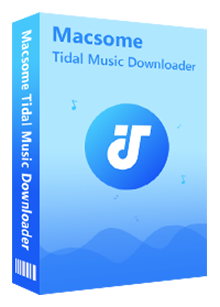 Tidal Music Converter
Download music, albums, playlists from Tidal Free, Tidal Hi-Fi, and Hi-Fi Plus.

Convert Tidal Music to MP3, AAC, FLAC, WAV, AIFF, ALAC.

Keep Hi-Fi audio quality after conversion.

10X conversion speed & retain ID3 tags.

Batch download multiple playlists.

Free updates & technical support.
Step 1:

Run Tidal Music Converter on the computer

Download and install this Tidal Music Converter on your computer then launch this program. On the main interface, click on the "Open Tidal Web Player" button. Log in to your Tidal Music then go to the next step.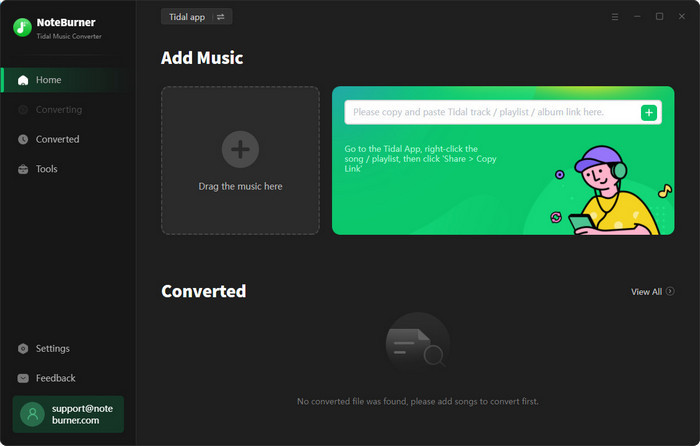 Step 2:

Change the output settings

In the upper right of this converter, click on the "setting" icon. Then you will see a setting window. You are allowed to select your preferred output format, bit rate, sample rate, and other settings. When you adjust all parameters, just close the setting window.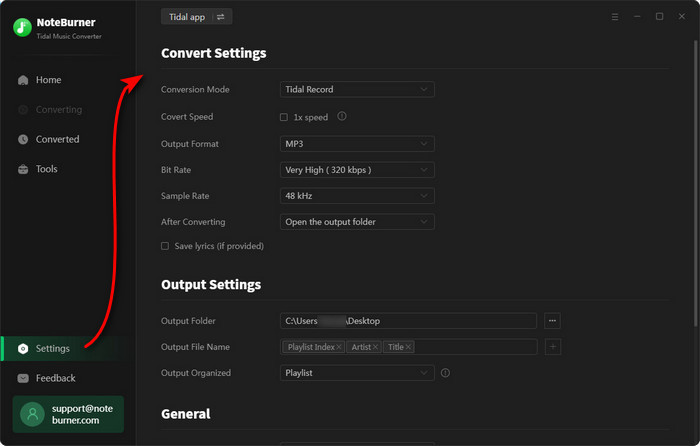 Step 3:

Select Tidal songs to convert in batches

On the built-in Tidal web player, navigate to your desired playlist or album. Then click the "Add to list" button. Select songs you need from the playlist, click "Convert Now to perform a conversion immediately.

There is another option if you need to convert more playlists. Tap on the "Save to list" button. Then the selected songs will be added to a task list. After that, you can go to another playlist to add songs. When all songs you need are added, click the "task list" icon in the upper right. Click the "Convert" button to download all songs from different playlists at once.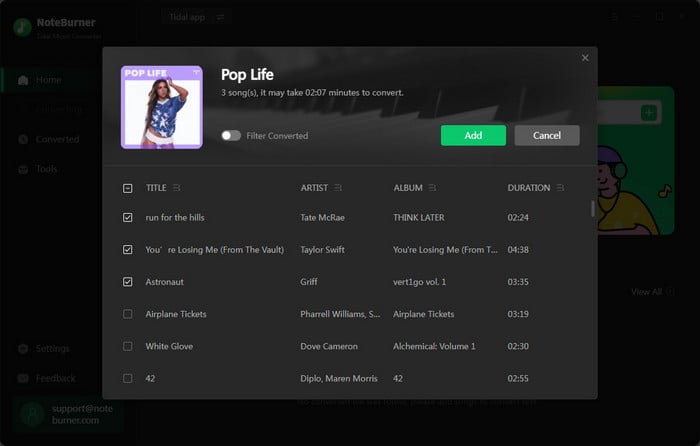 Step 4:

Check the downloaded Tidal songs

After the conversion, you will see the output folder. In the output folder, you are allowed to get access to all downloaded Tidal songs. You can enjoy the playback anytime because you own these Tidal songs forever.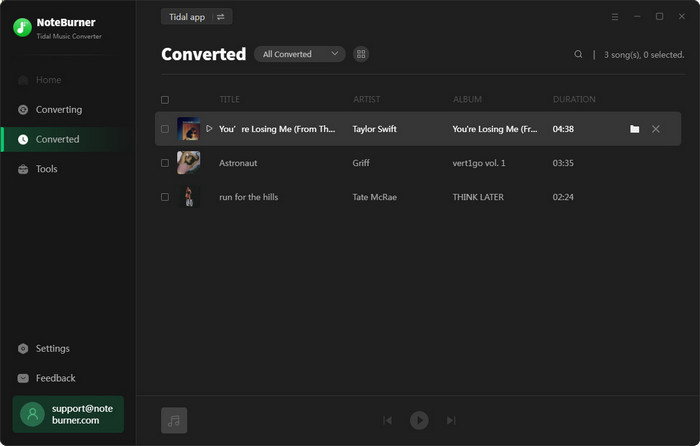 ---
Disclaimer:
All these methods are for personal use only.
You should not use this method to distribute or pirate music.
---
Conclusion
After reading this article, you should get a perfect way to keep tidal Music in FLAC format and make it easier to transfer real downloaded tidal music to any portable device. If you find this guide is useful, please share it with people around you.
Try AudiCable Audio Recorder Win right now!
Try Tidal Music Converter Win & Mac right now!
Sidebar
What You'll Need
Hot Tutorials