2 Ways to Download YouTube Music to MP3 for Offline Listening
YouTube Music was announced in 2018. This is a new streaming music service that focus on music of live performances, covers, remixes and other music content you can't find elsewhere. 100 millions of official songs are collected in YouTube Music library. And now it offers free version for users who don't mind listening to adverts for every few songs. If you upgrade to Premium, you will enjoy ad-free songs and music downloading. But you can only listen to songs within YouTube Music even you own a Premium subscription.
Annoyingly, we are not willing to renew the subscription to YouTube Music every month. But when our subscription expires, we can not get access to all downloaded tracks on YouTube Music. And if we want to switch from YouTube Music to other music services, we have to give up all favorite playlists and pay for another music service again. If you want to truly own the downloaded songs from YouTube Music, you need to convert music as MP3 with a professional tool. In this article, you will find two solutions to save tracks from YouTube Music / Video as MP3 within a few steps. You will not have any losses to spend a few minutes to check if these methods are suitable for you. Then let's start.

#1

Download YouTube Music as MP3

Sometimes, we also need to move the downloaded songs to another computer or device, to burn YouTube Music to CD, to copy YouTube Music to a USB Flash Drive, to add YouTube Music to a video as BGM and so on. To have a better experience, saving YouTube Music as MP3 files is critical.

YouTube Music can be downloaded as MP3 easily with professional streaming music downloader - AudiCable Audio Recorder. This app supports to download music from almost all streaming music sources as MP3 with ID3 tags and original audio quality. Check main features of AudiCable Audio Recorder by the following list. Then you can find two step-to-step guides to download YouTube as MP3.
🍟 Download songs from YouTube Freemium, YouTube Premium.
🍟 Record music from Spotify, Apple Music, Tidal, Line Music, Deezer, YouTube Music, Pandora, SoundCloud, etc.
🍟 Save YouTube Music or music from other streaming apps as MP3, AAC, WAV, FLAC, AIFF, ALAC.
🍟 Convert audios to MP3, M4A, M4B, WAV, FLAC, AIFF, M4R.
🍟 Export music with original quality and ID3 tags.
🍟 Support to download songs while listening to music online.
🍟 No need to install additional apps including the YouTube Music app
To download YouTube Music as MP3, follow the detailed steps below.
Step 1: Start AudiCable Audio Recorder on PC
Download AudiCable Audio Recorder to your computer then start the program. This app is safe and clean. On the start-up page, you will find all common music sources, including Spotify, Apple Music, Tidal, etc. Scroll down to locate YouTube Music. Click it to launch the built-in web player for YouTube Music. If you want to add other music sources later, you can click Add Other Source on the main interface and add a music source manually.
Note: YouTube Music is not available on all countries right now. If YouTube is not available in your country, you can try other music source, such as Spotify free.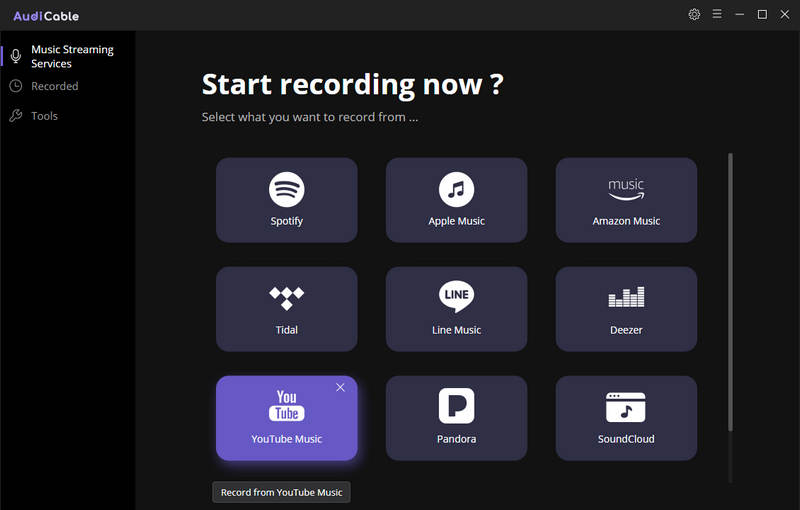 Step 2: Check the Default Output Settings
AudiCable allows you to save songs as MP3/AAC/FLAC/WAV/AIFF formats. Head toward the upper right of AudiCable, you will see a "gear icon". Click it then a setting window pops up. Here we choose to save songs as MP3. And set the output quality as 320kbps. Then change the saving path. Create a music folder on your computer to store downloaded songs from YouTube Music soon after.
⭐ MP3: MP3 is designed to compress music into smaller files. This format is compatible with almost all media players. AudiCable can save the songs as MP3, and the audio quality up to 320kbps.
⭐ AAC: Compared to mp3, the AAC format has better sound quality and smaller files. Apple iPod and Nokia mobile phones support audio files in AAC format. AudiCable can save the songs as AAC, and the audio quality up to 320kbps.
⭐ FLAC: FLAC is a lossless compression, which can restore the sound quality of music CDs. And is compatible with most music players. AudiCable can save the songs as FLAC with original quality.
⭐ WAV: WAV format guarantees that the sound is not distorted, but the file is larger. Can be used in Windows, Macintosh, Linux and other operating systems. AudiCable can save the songs as WAV with original quality.
⭐ AIFF: AIFF is the standard audio format on Macintosh. AudiCable can save the songs as AIFF with original quality.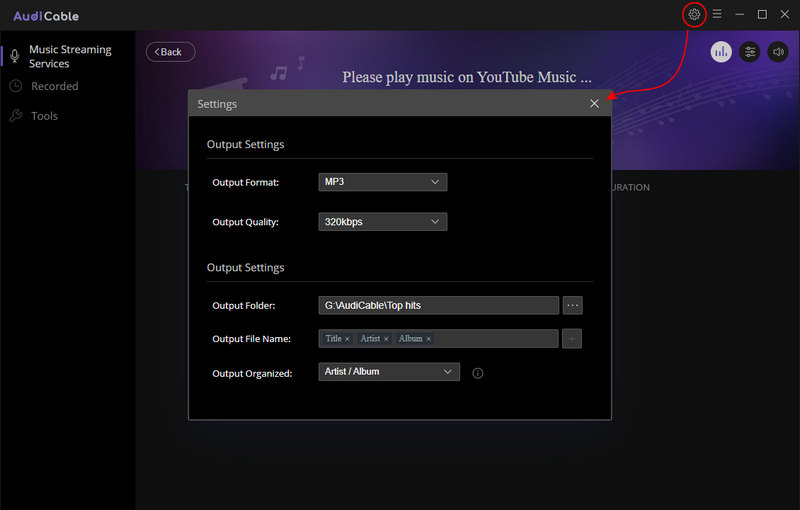 Step 3: Play Preferred Music to Download
Log in to enter YouTube Music library. On YouTube Music, you can browse for your preferred songs, and click to play. When playing music on the built-in YouTube Music Web Player, AudiCable wil recognize the playing songs and start recording at the same time. AudiCable will save songs one by one with ID3 tags. If you want to mute the sound, click the "sound icon"

on AudiCable. The icon will turn to "mute icon"

, which enables AudiCable to record in the background quietly.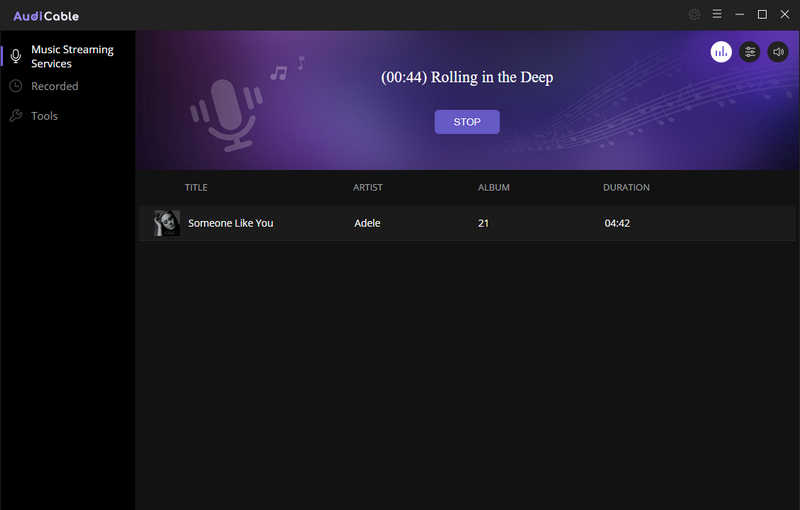 Step 4: Enjoy Offline Playback
When all desired songs are downloaded, you can open the output folder. Songs from YouTube Music are downloaded as MP3. You can enjoy free playback of these YouTube Music tracks permanently. Now, you own YouTube Music collections for real.

---
#2

Rip YouTube Music from YouTube Video as MP3 for free

There is another way to rip music from YouTube. Actually, it's different. This app is a YouTube Video Downloader from Syncios. It's designed for downloading YouTube videos for free. But if you need to rip a preferred audio track from a YouTube video, this app works too. Check detailed instructions and have a free try. It only takes a few steps to download music from YouTube.
🍟 Fast and smart search for YouTube video, music, playlist.
🍟 Download YouTube videos at fast speed
🍟 User-friendly and intuitive interface, easy-to-use.
🍟 Free download YouTube videos to MP4, MKV, M4A, and WEBM.
🍟 Download YouTube videos, music, playlist in 4K/HD/SD resolution.
🍟 Free offer and no extra fee.
🍟 No need to install additional apps including the YouTube Music app
Step 1: Start YouTube Video Downloader
After the installation to Syncios, you will find all Syncios tools on the main interface. Click YouTube Video Downloader to start downloading. After loading this app, click it again to open it.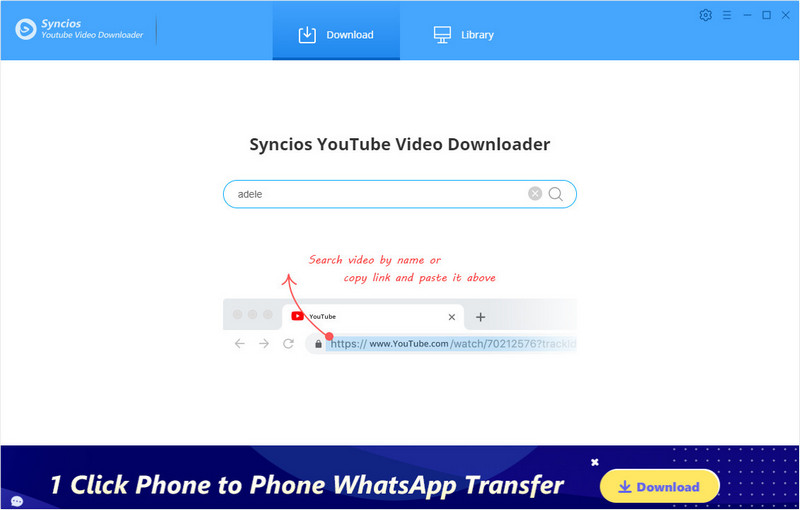 Step 2: Customize Download Settings
On the top right, navigate to a "setting button", click it then a setting dialog appears. You are allowed to customize the video quality (High, Medium, Low) and output path.
Step 3: Search Videos via Links or Keywords
If you want to rip BGM from a video, copy its YouTube link then paste it in the searching box. The video you need will be displayed in the result. Or you can input a keyword on Syncios YouTube Video Downloader, and then press "Enter" button on your keyboard to search. Soon after, Syncios will show the related movies or TV shows. Actually, you can use this method to download a music video from any artist.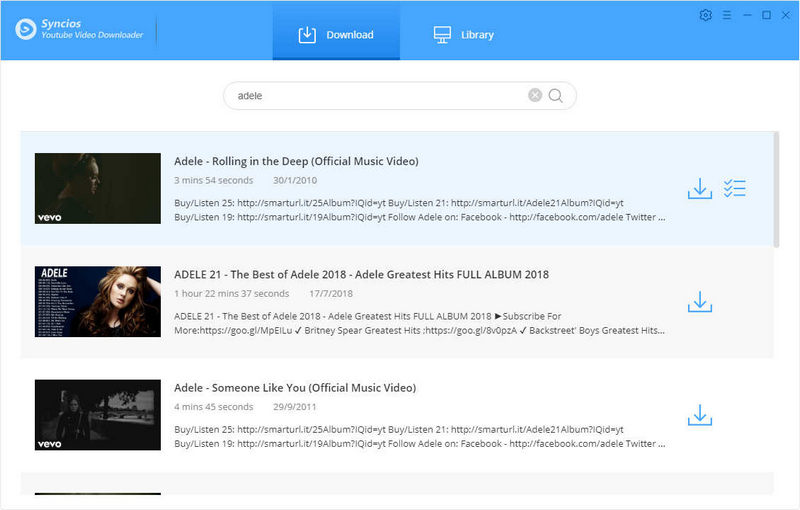 Step 4: Rip Music from YouTube Video
Find the video you need to rip music from, move to it. You will find two buttons behind it. Click the "advanced downloading icon"

, followed that a window will pop up allowing you to select the corresponding video or audio in different output format & quality. Here you are allowed to download audio as MP3 format directly, only two options: M4A and WEBM. Just choose the desired output format and quality then click the "download icon".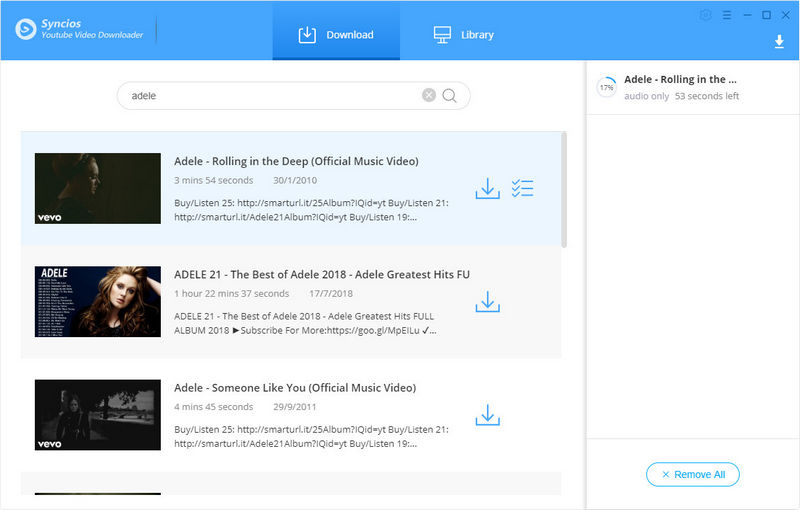 Step 5: Check Downloaded Music on Local Drive
Soon after, the music from the video will be downloaded to your computer. To check the downloaded history, go to Library. Click the folder icon behind the downloaded audio, you can locate the downloaded song quickly.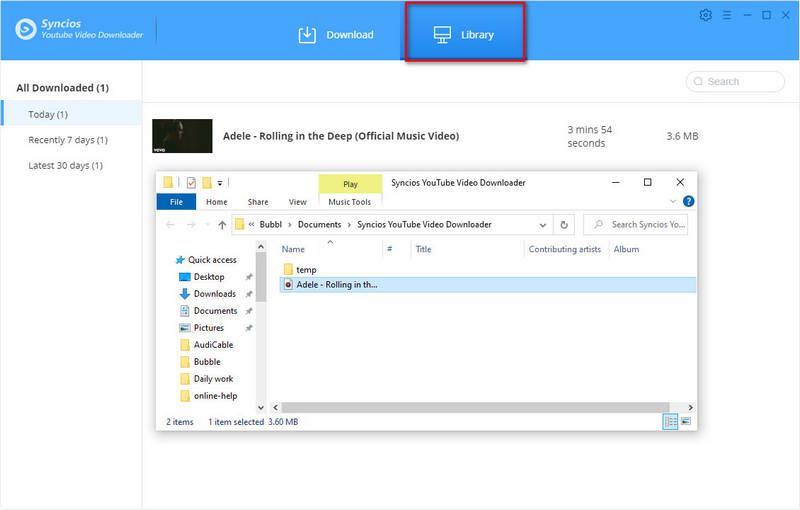 Step 6: Convert YouTube Music to MP3
Actually, now you can enjoy the playback of the downloaded music. But if you need to convert the songs as MP3, open AudiCable Audio Recorder we've installed in the solution 1. Go to Tools and choose Audio Edit. Click Add to import music from local disk or drag and drop music from the computer to AudiCable directly. Then you can set the output format as MP3. Click Save to convert the music as MP3.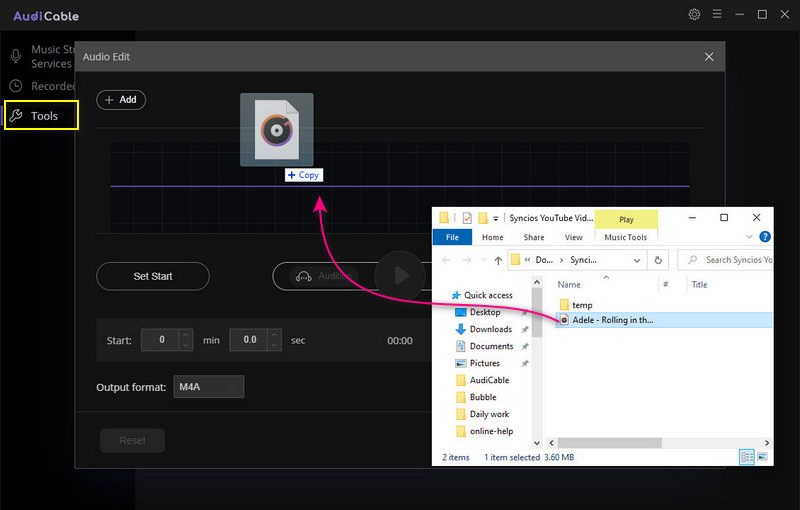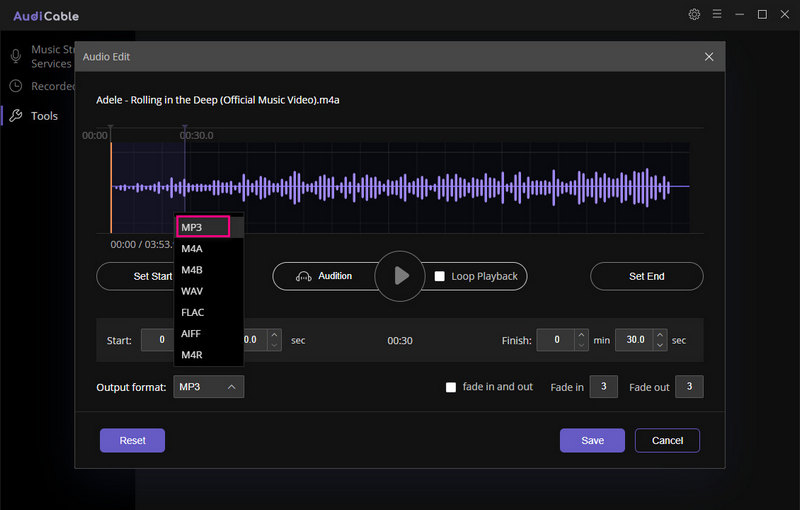 ---
Conclusion
Obviously, it is more efficient to download YouTube Music as MP3 with AudiCable in Method 1, but free help is also necessary for some users. If you tried other solutions, you will find that the most effective is to get help from a professional streaming music downloader like AudiCable Audio Recorder. If you don't believe it, you can try it for free right now.
Related posts